Self-regulating heated outlets and gutter spouts
Self-regulating electric heating of outlets and gutter spouts ensures reliable drainage in winter season. It functions in principle of resistance change between semiconductors in dependence on ambient temperature. Laically said, the lower temperature in outlet surroundings, the higher output the heating has. The highest risk of outlets or gutter spouts blocking is with temperatures around zero when so called ice plug of hoar-frost and snow may block outlets or even whole piping. Heating is designed to protect not only a mouth of the roof outlet but its immediate surroundings as well.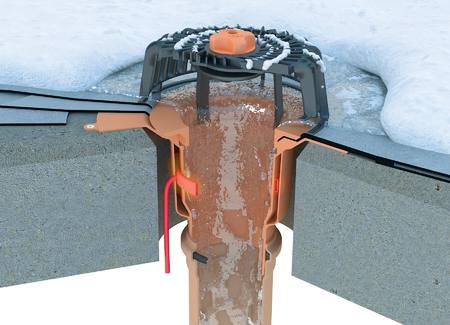 Advantages of self-regulating heating
Reliable drainage also in winter season
Voltage 230 V / 50 Hz – without necessity of a transformer or a control unit
Option of connection to heating of gutters, downpipes, garage entries etc.
Simple connection via a switch or a thermostat
Electric energy saving
Heating connection and regulation
The self-regulating heating system increases its output according to the ambient temperature but in summer months it has a minimum electric input. Therefore we recommend to switch off the electricity supply when temperatures exceed +3 °C. We recommend setting the thermostats to +3 °C and placing the temperature sensor to the northern side or to another side without external influences.
Basic options of connecting of heated outlets
Without possibility of switching off (energy consumption also in summer season – not recommended)
Mechanical switch (manipulation required), or time socket
Outer thermostat with integrated thermal sensor
Thermostat to a switchboard including thermal sensor for measuring of outer temperature
Thermostat to a switchboard including thermal and humidity sensor
Connection description
Connection is performed in an electric box under roof structure
Length of the outlet supply cable is 1.5 m. Cable CYKY 3 x 1.5 mm
Wire connection: yellow-green – protective, black – phase, blue – neutraĺ
AC voltage: 230 V, 50 Hz
Protection class: IP 67
Roof outlets (TWE):
Input power: variable according to the ambient temperature, ca 7 W at 20°C / 11 W at 0°C / 16 W at -20°C
Max. current surge: 600 mA
Sanitation outlets and extended single-wall roof outlets (TWE SAN, TWJE):
Input power: variable according to the ambient temperature, ca 4 W at 20°C / 7 W at 0°C / 12 W at -20°C
Max. current surge: 400 mA
Balcony outlets and gutter spouts (TWBE, TWCE):
Input power: variable according to the ambient temperature, ca 3 W at 20°C / 4 W at 0°C / 7 W at -20°C
Max. current surge: 150 mA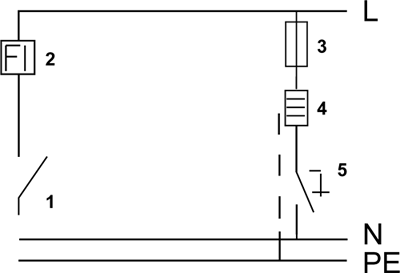 1 – main switch
2 – residual current device
3 – circuit breaker
4 – roof outlet
5 – thermostat or switch
L – phase (black)
N – neutral (blue)
PE – protective (yellow-green)